Tuesday, May 31, 2011
I recently found a great website for finding CD giveaways...
http://www.clothdiapercontests.com/
Cloth Diaper Contests sent me to Crazy4Fluff, where I entered to win a GroVia Shell set. (the shell in aplix + soaker pad) from Earthy Crunchy Mama. Check out the blog below to enter, or to learn more about CDing!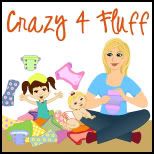 And another great Mama's blog, with a Best Bottom diaper system giveaway going on now:

Friday, May 27, 2011
My favorite place to buy cloth diapers and CD accessories: Kelly's Closet.
Use the link below if you're interested in exploring the site or making a purchase - they'll know that I sent you! :)
Kelly's Closet has a great rewards program, as well as fabulous giveaways and coupon codes!
Looking for helpful tips on your home improvement projects? Want to read about the various exploits of a cash-conscious DIYer with a great sense of humor? Check out my fabulous neighbor Bianca's blog (when I say fabulous, I mean the person who brings over chocolate-peanut butter cupcakes, gives you AWESOME advice on how to remodel your kitchen, shares and compares gardening tips and plants and work, and hosts a truly marvelous party...yes, we have great neighbors). You can find her at:
http://www.littlebrickranch.com/