I recently found a great website for finding CD giveaways...
http://www.clothdiapercontests.com/
Cloth Diaper Contests sent me to Crazy4Fluff, where I entered to win a GroVia Shell set. (the shell in aplix + soaker pad) from Earthy Crunchy Mama. Check out the blog below to enter, or to learn more about CDing!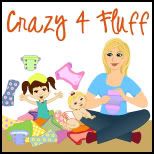 And another great Mama's blog, with a Best Bottom diaper system giveaway going on now: